Being Open — Our Interview Process
People often ask us about our interview process — whether they are thinking about applying, or are simply interested in how we do it. We have invested a lot of time and effort into providing a valuable experience for our candidates, so we're always happy to talk about what works for us. To shed light on a process that we think is an important part of our company's culture, we've created this blog post about interviewing at deepset.
Adding New People to the Team
During the initial conversations, candidates often want to learn more about our interview process. Our goal is to be fully transparent about the individual steps, what they look like in detail and how much time they will take.
Our company is founded on values of teamwork, humility, communication, and taking pride in our accomplishments. We look for people who adhere to these basic tenets, but we also know the value of adding new facets to the team. To make sure that candidates fit in with our company's general mindset, we let our values inform every step of the interviewing process.
Interviewing at deepset: an Overview
The interview cycle at deepset consists of two preliminary interviews and three consecutive steps.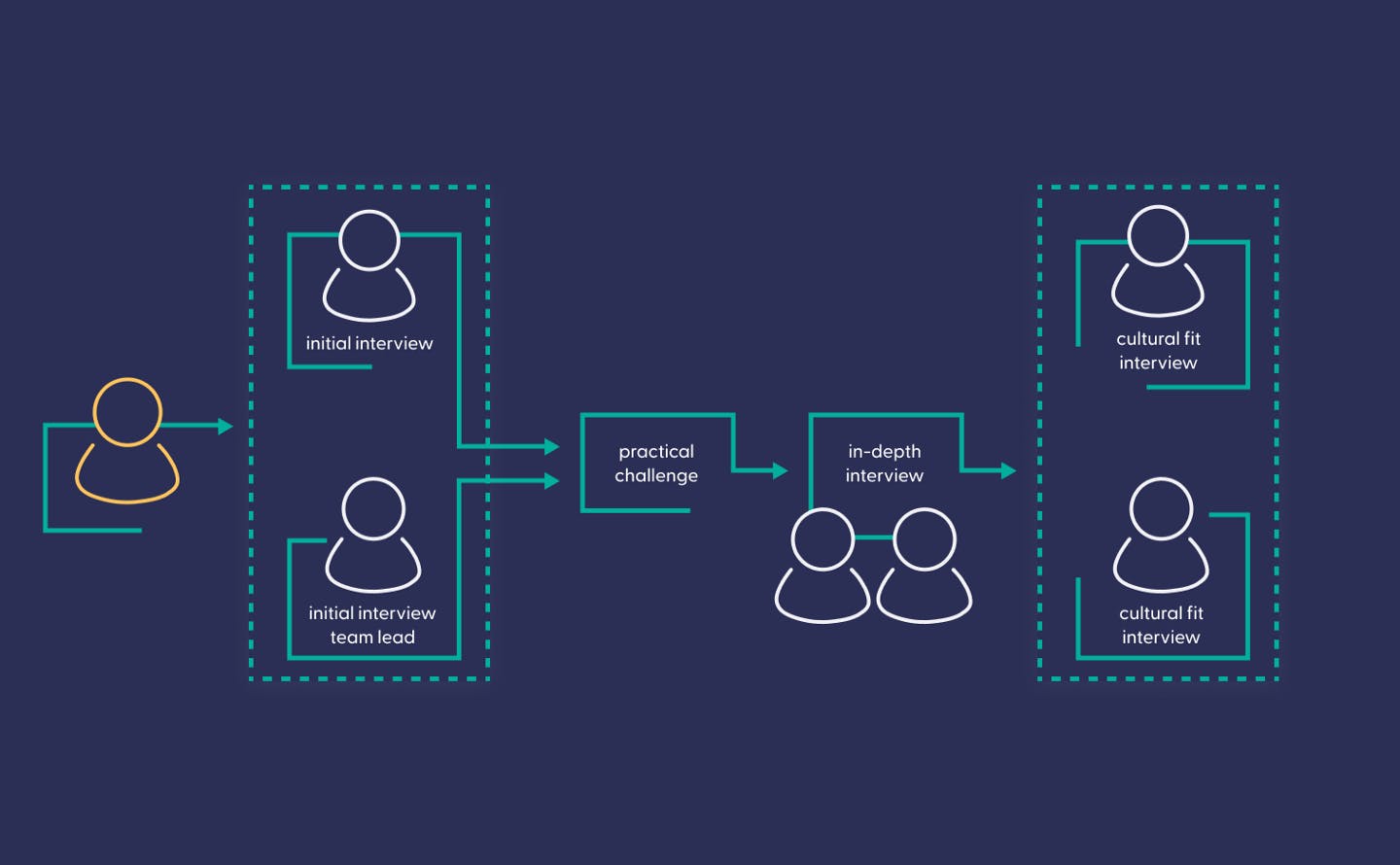 Initial interviews
The initial conversation serves as a preliminary step. Over the course of 45 minutes, the candidate talks to a member of the talent team. It's a chance for both parties to learn more about each other. The candidate can ask questions about the position and the general conditions. From our side, we try to get a feel for the candidate's qualifications and motivations.
In the second preliminary interview, the candidate talks to the hiring manager, typically the lead of the team that the candidate would join. During this interview, we'll ask more detailed questions about the candidate's experience. This is also an opportunity for the candidate to ask specific questions about the role and the team. If both sides agree to move forward, the official process starts.
Step 1: Practical challenge
For the practical challenge, the candidate works on a real-world task close to their prospective position. Usually this will be a coding challenge, or, for non-technical positions like HR, a case study. It's both an opportunity for the candidate to understand more about the work at deepset, and for our team to have a more concrete demonstration of their hard skills.
The candidate is expected to spend 3–4 hours on the task. We prefer this setup to a live-coding challenge, because those tend to be too nerve-racking for most people. The deadlines and pace of the process are usually set mutually, respecting the candidate's availability and individual schedules. The design of this challenge has earned us a shoutout from Calm Hire, a list of companies with less stressful hiring procedures.
Step 2: In-depth interview
After the candidate has completed the challenge, we meet again to talk about their approach and their solution. The team lead and another team member will be present at this slightly longer interview. The purpose of the interview is for us to see how the candidate goes about solving a problem. We'll encourage them to talk us through the process, and will ask lots of questions. This reflects our day-to-day work, where communication is key.
Step 3: Cultural fit interviews
To conclude the hiring process, we conduct two cultural fit interviews. The idea here is to understand if the candidate's ideas and working preferences fit in with the environment and values at deepset.
Deep Dive: What are the Cultural Fit Interviews All About?
Anyone from our team can volunteer to conduct a cultural fit interview — in fact, we try to introduce the candidates to members of as many different teams as possible. That's because at deepset, communication is important not just within one team, but also across different teams.
We're also more than happy to answer all of the candidate's questions. While we encourage and appreciate questions at every step of the process, the cultural fit interviews are where we expect the candidate to ask us about anything they like — so that they too can feel confident that they're making the right decision.
The feedback we've received from past candidates has affirmed that our process works — one person who didn't get an offer in the end described it as a "lovely experience, interacting with everyone on the team." Another said that "the process was so warm. I really had a feeling that you cared about me and I was not just a number."
If someone seems like a great fit culturally but doesn't have the right skills just yet, we encourage them to check back in after a few months. We also keep candidates that didn't quite make it in our "talent pool" for potential future collaborations. Finally, we think that our high offer-acceptance rate of 80 percent indicates that the process works.
Why Are There So Many Steps?
Every company is different and reflects the personalities and thinking styles of its employees. At deepset, our company culture is strongly shaped by our enthusiasm for practical NLP and open source. It reflects our deep commitment to teamwork, communication, and seeing the bigger picture. But there are also practical considerations: we're remote-first, with regular extended get-togethers.
Our interview process serves to find employees who don't just match our entrepreneurial vision, but also share our mindset — at least to an extent. That's why we try to include as many people as possible in the interviewing process. In fact, over the course of all processes, more than half of the deepset team has been involved at some step of the process.
We are constantly aiming to improve our interview process and make it a better experience for candidates, so we welcome constructive feedback. We value the time and effort candidates invest in the process, so we don't make it any longer than necessary. For some roles, we are able to make exceptions and skip or adapt the initial steps. We're also flexible — we offer the take-home task to lower the pressure, but if you prefer to do a live coding session instead, or to talk about your own GitHub repository, we're open to that. After all, it's not necessarily the code itself that interests us, but rather how you approach a problem.
How Can I Prepare for an Interview at deepset?
Suppose you've applied to deepset and we've invited you for your first interview. What can you do to feel fully prepared (and combat those nerves)?
It may sound obvious, but as the company behind the open source NLP framework Haystack, we expect applicants for technical roles to familiarize themselves with it before interviewing. That's because when you get to the take-home challenge, you don't want to spend most of your time installing and reading up on Haystack. Reading the docs beforehand and playing around with the tutorials also means that you will be able to ask more informed questions, which signals interest in our product.
If you're applying for a non-technical position, getting acquainted with a programming framework can seem a bit more challenging. However, we encourage you to try to get a broad understanding of the role of modern NLP in general and the Haystack framework in particular — and why we are so excited about it. A great place to start is our blog, where we offer lots of high-level explanations of the concepts that are central to Haystack. And, of course, have a look at our website.
For the practical challenge, we expect you to be able to talk about your solution. Be confident in what you've made and guide us through it — we're excited to see your solutions, and want to know all about the thought process behind them. Finally, for the cultural fit interviews, our main advice is to be yourself and think beforehand about what you want to know about us.
What Happens After the Interview?
After the final round of interviews, we make sure to contact candidates after a few days, to let them know whether we want them to join our team. If the candidate is approved, we will schedule a call to explain the job offer and discuss next steps. After the offer is accepted and documents are signed, the onboarding process starts.
To help a new employee transition into their new role as smoothly as possible, we've introduced the concept of "buddies." A buddy is a colleague who is responsible for guiding a new hire through the first weeks in their new role and answering all their questions that might come up — or pointing them to a person that can help. Typically, new hires have short, regular calls with their buddies to get them up to speed.
We started the buddy program because we saw how overwhelmed new colleagues often were by the onboarding process. Today, everyone at deepset loves being a buddy! There's simply something rewarding about helping other people settle into a role where they can see their potential grow.
Join deepset!
If what you've read so far sounds good to you and you feel like joining our crew of NLP enthusiasts and team players, have a look at our open positions. Want to learn more about deepset first? Check out the Haystack repository on GitHub or join the Discord community.