Remote Work at deepset
Learn about remote work culture at deepset — our work principles, the reasons behind them, and the feedback from our team members.
Remote Work at deepset
At deepset, we are a tech company with a more human touch. We've been a remote-first company from day one. Does this mean that our team members barely interact? Quite the opposite! From daily stand-up calls to quarterly in-person events, our team members frequently exchange ideas, collaborate on projects, and even socialize.
Read on to learn all about our remote work culture. We'll list our remote work principles, explain the reasons behind them, and share interesting feedback from our team members. Let's dive in!
deepset: Remote-first With an IRL Twist
From our inception, we have been committed to supporting a fully remote workforce. For most deepset team members, this is not the first company where they're working remotely.
Working remotely offers a lot that an office environment doesn't, like work-life balance, autonomy, and flexibility. However, we also know that there can be some difficulties adjusting to it. Social interaction between team members is mediated by online video chats, and this means that you need to find new ways to hold creative whiteboard sessions, team alignment meetings and early product ideation.
We decided to develop our remote work culture in a way that would address the trickier aspects of the remote work style. Here are the three principles that we used to guide our remote work approach.
Principle 1: Core Hours Policy
Our team members are currently distributed across a single time zone (CET), but we'll have people joining us from more cities in the upcoming months. To facilitate our culture of collaboration, we're mainly hiring from cities that are within 2 time zones of Central European Time.
At deepset, we value individual focus and creativity, but also foster interaction and collaboration throughout the day.
Our core hours are from 10am to 6pm CET, but it's not mandatory to work exactly on this schedule. Meetings should take place within the 10am-6pm timeframe, and these are the hours when most team members are online. That said, you're often free to adapt your workday to your personal needs. If you need to tend to a loved one, sleep in, or attend a yoga class, our flexible work environment will allow you to do just that.
Principle 2: Periodic Exchange of Ideas and Feedback Sessions
In a remote work context, it's important to set aside time for interaction and feedback. We encourage our team members to discuss their projects, dive deep into relevant topics, and provide feedback to one another.
We hold two types of recurring meetings to facilitate these goals:
Weekly all-hands call (entire team). "All-hands" calls every Friday always have two items on the agenda: a discussion of the past week's achievements, and a presentation on a relevant topic by one of the team members. The latter could be a novel product feature, a research paper, or a new piece of software that we've implemented.
Daily standup calls. Our 10–15 minute standup calls happen in small groups, and we use them to discuss progress on daily to-do items and priorities, while also bringing in a bit of social interaction.
We also organize virtual lunches that are completely optional to attend, and if you decide to participate you can join with video or without. We're aware of video conferencing fatigue, and for 1:1 calls we frequently use the Huddle option in Slack where team members join with voice only. Screen sharing within a Huddle works great, by the way!
Principle 3: Quarterly In-person Team Building and Strategy Sessions
Many of our high-level strategy discussions require to-the-point communication and longer discussions. More importantly, the quality of interaction needs to be very high for us to make progress on strategic decisions. To create space for such discussions we organize a quarterly in-person event called Re:base. The event happens in varying locations, so that we always explore new places.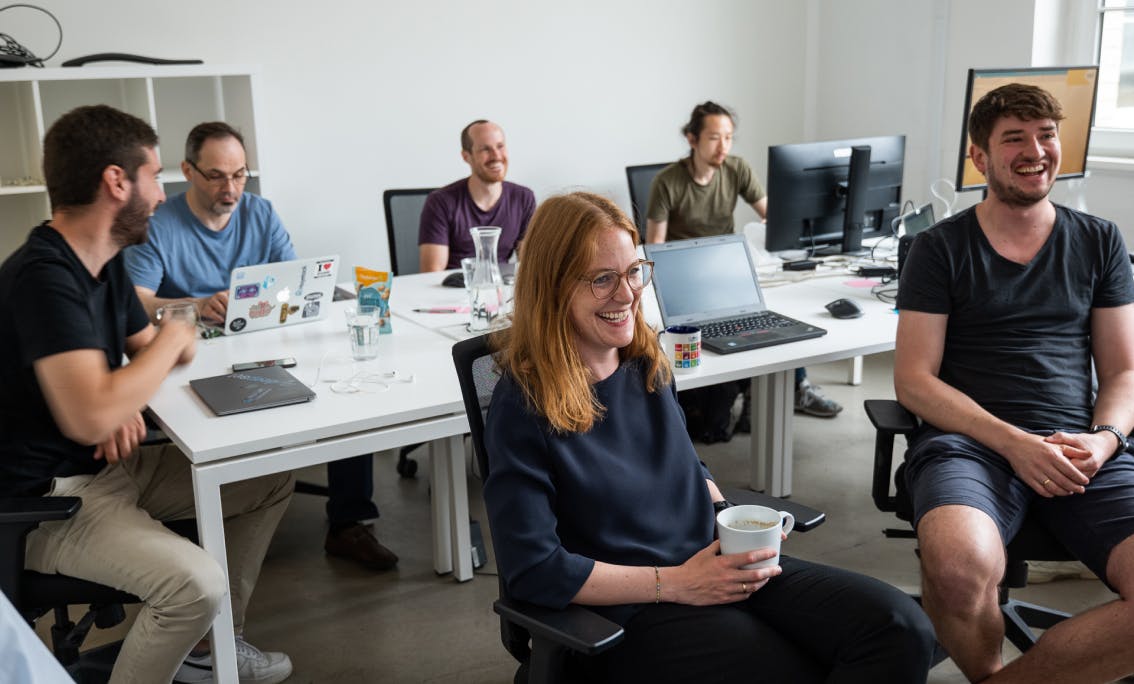 The term "rebase" comes from the name of a Git command that developers frequently use, and refers to a process of incorporating the newest state of an original codebase. Re:base likewise serves to integrate all the different branches of work at deepset. It also allows our team members to get to know each other better and further enhance their relationships.
To allow us to really spend time together, Re:base events are free of meetings with customers or external stakeholders. They're a mix of strategic workshops, hacking sessions, and fun activities like hiking, cooking, and sharing stories around an open fire. The small group hacking sessions (and, of course, the food!) are consistent favorites. Between sessions, there's time to catch up on daily tasks, such as answering questions from our open source community.
At our Re:base events, we learn a lot about one another, from music tastes to favorite sports teams and even beer preferences. Most importantly, these events build mutual trust and cohesion. That's why in-person meetings are an important complement to our remote work culture: we need time to rebase, reenergize, and prepare ourselves for new challenges ahead.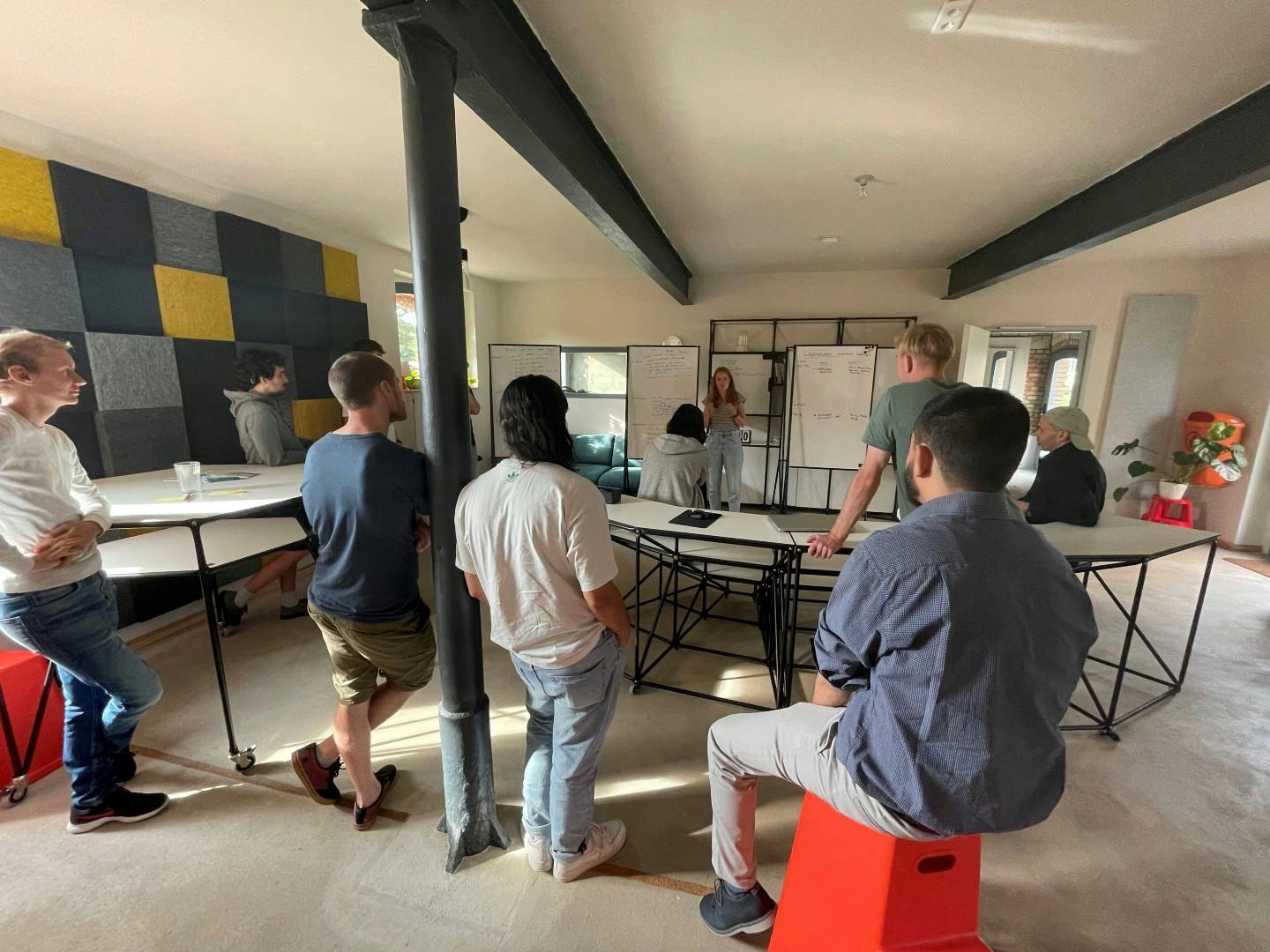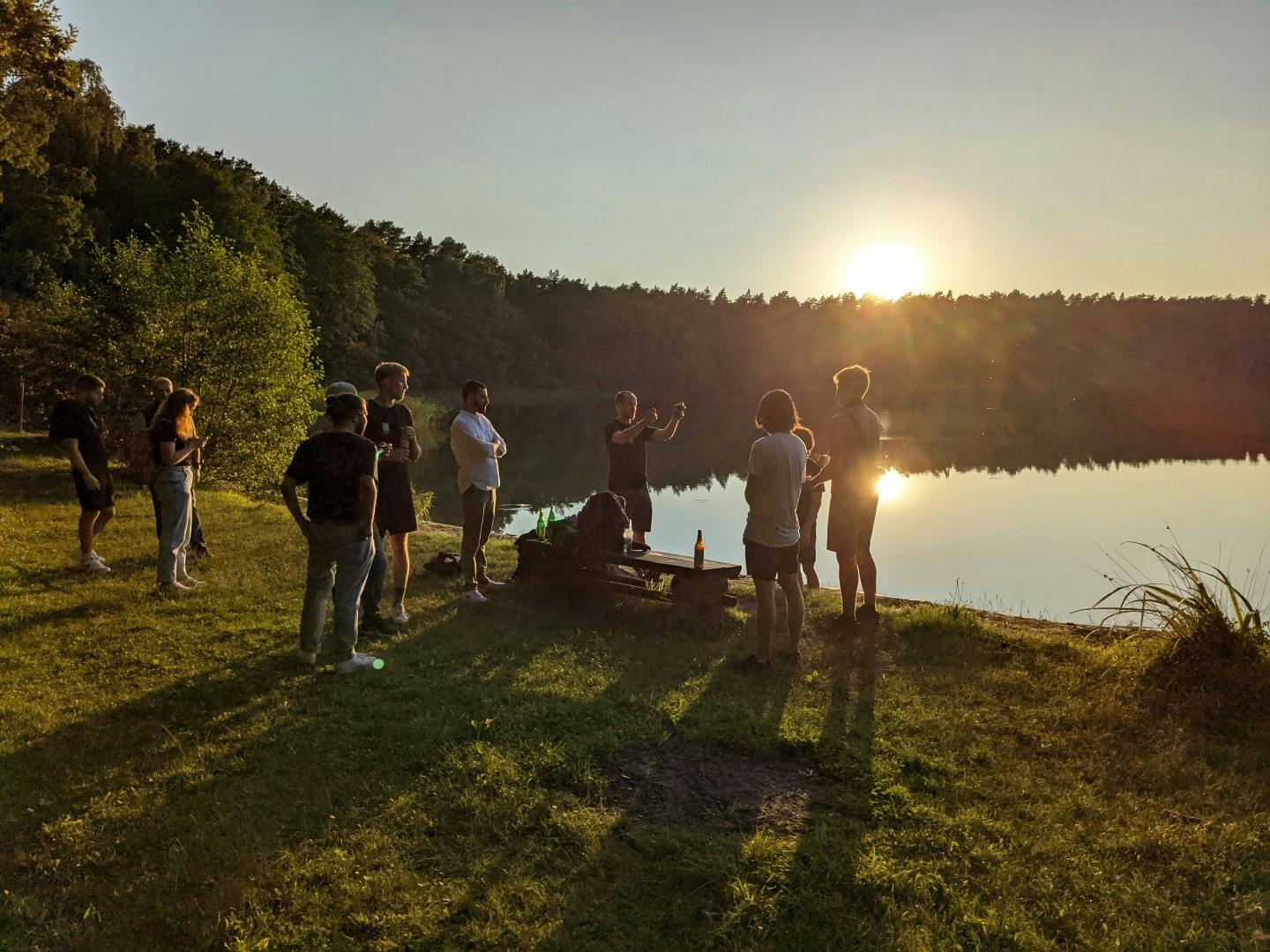 Feedback From the Team
Folks on the team have been enthusiastic about our approach to remote work. Here are some quotes from our current team members following our Re:base event in September 2021:
My favorite part [of Re:base] was Andrey [Head of Product Marketing] telling the story of how [his previous] open source company was created. It was a special atmosphere as we sat outdoors in candlelight, with Andrey's vivid storytelling and insights you won't get anywhere else.
-Julian Risch, Senior ML Engineer
I enjoyed the hackathon part [of Re:base] — working with people that I usually don't work with was enlightening. The session on how we could improve deepset as a company was also very interesting. Good vibes and fun!
-Johannes Klein-Peters, Business Analyst
It was inspiring to see the alignment between teams and initiatives in the "goals" workshop, and sitting together in the evenings was great fun.
-Malte Pietsch, Co-Founder and CTO
Does Our Culture Appeal to You? We're Hiring!
If our approach to work-life balance resonates with you, get in touch! We're growing fast and hiring for multiple roles.